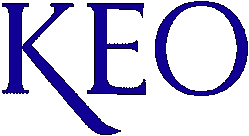 Newcomers! Discover the KEO adventure quickly and comprehensively by clicking on HTML.

If you already know KEO and use a powerful computer, have a bit of fun with multimedia animations and sound effects by clicking on Flash.

(If you are using Explorer 4 under Windows, the download and installation of the plug-in will be automatic and will only take a few seconds. With any other configuration, you may click on the icon displayed to get the proper plug-in.)

Conception and realization Fabrice Epelboin
Tell us what you think, share your comments with us...